A woman's walk through marriage, parenthood, servanthood and the family of God.
---
Archives:
---
E-Mail Me
Wednesday, March 31, 2004

The end is near! (and it's about time)

After laboring through the last eleven installments of the Left Behind series, I am looking forward to reading the last book, The Glorious Appearing (which I purchased this morning). Not because I'm expecting an incredible literary experience. I enjoyed the first book, maybe even the second book, but after that they just seemed to drag out, the characters weren't fully developed and the writing left much to be desired.....the plots have been so full of holes. My anticipation of this book is something like driving by a wreck that's just happened. You don't want to look, but you just can't help it. After all this time I have just got to know how LaHaye and Jenkins are going to wrap it up and who makes it and who doesn't. Bad character development aside, I've grown attatched to the original members of the Trib Force.


knock, knock

Every so often I like to check and see what brings people to visit me here in my little corner of the blogosphere. Not surprisingly, the overwhelming majority of searches that bring people here have to do with the whole Keep It Simple, Stupid philosophy. The new A.D.D. wonder drug Strattera that my daughter takes is running a close second. Also bringing people by this week:

Stacy-Stacy Orrico, Stacey Keach, Stacy's Mom....now that is just disturbing. As a Stacy with a 60-year-old mom, the idea of her having it "going on" and a teenage boy lusting after her is the stuff of nightmares and future episodes of Dr. Phil.

Heathers color theme, red, yellow, green-Huh?

Regular mom-Ok, now that one makes sense.

Dr. Phil-I've mentioned him before and let's see, I've added two mentions in this post so I've probably climbed in the search.

The Goonies Sweatshirt-Cool movie. They have a shirt?

This next one earns the title for longest search title, I think. It also makes me feel like I'm old for some reason.

Rock and Roll All Night Long, KISS, what did people think of them-Since you asked, I thought they were very cool. Great music and Peter Criss was soooooo cute. Well, I thought he was....under all that goo.

And my personal favorite...

How to keep truck drivers from being lonely-I think I won't touch that with a 10-foot pole.




posted by Stacy at
12:27 PM
Tuesday, March 30, 2004

New Blogs Added

It's been a while since I've updated my blogroll so here's a whole bunch of new blogs to check out.

Nameless Youth Pastors-A group of (duh) nameless youth pastors blogging what's on their minds.

Kevin M. Young says he's a guy trying to find himself and his God in a world that loves neither.

Cheryl's Journal, Under the Juniper (new home of Silent Messenger), and A Simple Life are all personal blogs by women.

Steeler Dirt Freak used to be on my blogroll then I couldn't open his blog without my computer freezing up so I deleted him. He's back with a new site.

Dead Youth Pastor Walking is a "post-career youth pastor telling it like it is."

Bloggedy Blog is Andrew Careaga's blog. Always good stuff over there....especially if you like music.

Our Hangout is where Ed, a pastor in Toronto, shares his thoughts and life.

The link to Kiwi Christian has been updated (sorry it took so long, Amy).


posted by Stacy at
12:10 PM

The pastor from the church we visited called me yesterday. I really like him and enjoyed talking with him (I guess so, since we talked for 45 minutes!) He is just so open and real and enthusiastic about........well, everything whether it's the people in his congregation, the people in the community, one of the church's ministries, his family or even his air conditioning. This is a guy that loves life and loves serving the Lord with that life. He asked what we are looking for in a church and then told me about what the church has to offer (again that concern for us first). I stand by my first impression that this is a church that puts love into practice. I learned about two practical ministries they have in the community, about some more that are in the planning stage and that they are always open to discuss any new ministry ideas. That's what we've always wanted in a church......faith in action, faith that does something for people other than preach at them, faith that demonstrates God's love is real. He closed by saying again that he would be praying for us, not that we would come to his church, but that God would direct us. He said he would love to see us settle into the church because he thinks we would be a good fit, but if God leads us elsewhere he'll be a little bit sad for their loss, but he will whole-heartedly rejoice that we are where God wants us. I am blown away. It seems like such a simple basic conversation that you'd expect from any pastor touching base with a visitor, but you have to understand what a void we've been living in as far as having a pastor minister to us. Just this little bit is like cool, fresh water to my thirsting soul.


posted by Stacy at
4:56 AM
Sunday, March 28, 2004

Our First Try

We attended a different church today. It had good points and bad.

Among the good: not too far from home; active youth and children's ministries; a real heart for reaching out and making a difference; friendly people; friendly pastor that really listens to what you have to say; they are a good fit theologically on the major points; the worship style is contemporary; the atmosphere is casual.

Among the bad (though bad isn't really the right word for all of it): they speak in tongues which is one of those things that isn't really bad, just not something we practice; a time of divine healing was a major part of the service and that again is something we aren't used to; the service today was three hours long and it was a big struggle for Megan but they are usually just two hours long (still a struggle for Megan); there really wasn't much structure to the service.

At the moment, the kids and I are more inclined to think we could find a home in this church. Tim liked the music, but thought it was too loud and had a hard time making out the words and he is nervous about the whole tongues thing, but that was actually pretty subtle today so maybe he'll be okay. On the plus side for Tim is that he really liked the pastor. Unfortunately, we didn't hear a sermon today as they just had a team come back from a mission trip to Mexico and they shared about that. Tim and I both liked how mission oriented they are and also how determined to live their faith the people are. A woman sang a song about how if we are the body why aren't the feet walking anywhere, if we are the arms why aren't they embracing anyone, etc. That is one major way this church seems to be like minded and it's something we tried so hard to bring to our old church but never could.

Anyway, good, bad and confusing all considered we've decided to go back at least a few more times so we can get a real feel for the church and people. Even the pastor said today was not a typical service for visitors to judge by and we know that even if it had been it takes more than one visit to know a church (unless of course there is some huge doctrinal blunder like salvation through works or something) and this nice church handed us a packet with their 16 major beliefs listed and explained right at the beginning.

Oh yeah, another thing that impressed the heck out of us.....we explained that we had just left a church after 12 years and are just beginning to search. Rather than try to "sell" us on his church, the pastor offered compassion and understanding for what he knew was a difficult time and said he would pray for God's leading in our lives. I really liked that he didn't pressure us and genuinely wanted what is best for us, not what's best for him and the church. That was very cool and very different pastoring than we are used to.



posted by Stacy at
6:35 PM
Saturday, March 27, 2004

What are my motives?

Isaiah 58 (New Living Translation):

"Shout with the voice of a trumpet blast. Tell my people Israel of their sins! Yet they act so pious! They come to the Temple every day and seem delighted to hear my laws. You would almost think this was a righeous nation that would never abandon its God. They love to make a show of coming to me and asking me to take action on their behalf. We have fasted before you! they say. Why aren't you impressed? We have done much penance, and you don't even notice it!

Has there ever been a time when I've been doing everything right but it still seems like God isn't listening, let alone answering my prayers? If I'm going to church, worshipping, studying the Bible and spending time in prayer why doesn't God honor that?

I will tell you why! It's because you are living for yourselves even while you are fasting. You keep right on oppressing your workers. What good is fasting when you keep on fighting and quarreling? This kind of fasting will never get you anywhere with me. You humble yourselves by going through the motions of penance, bowing your heads like a blade of grass in the wind. You dress in sackcloth and cover yourselves in ashes. Is this what you call fasting? Do you really think this will please the Lord?

But if I'm doing all the right things, all the things the Bible teaches that I should, isn't that enough?

No, the kind of fasting I want calls you to free those who are wrongly imprisoned and to stop oppressing those who work for you. Treat them fairly and give them what they earn. I want you to share your food with the hungry and to welcome the poor wanderers into your homes. Give clothes to those who need them, and do not hide from relatives who need your help.

If you do these things, your salvation will come like the dawn. Yes, your healing will come quickly. Your godliness will lead you forward, and the glory of the Lord will protect you from behind. Then when you call, the Lord will answer. Yes, I am here, he will quickly reply.

Stop oppressing the helpless and stop making false accusations and spreading vicious rumors! Feed the hungry and help those in trouble. Then your light will shine out from the darkness, and the darkness around you will be bright as day. The Lord will guide you continually, watering your life when you are dry and keeping you healthy, too. You will be like a well-watered garden, like an ever-flowing spring. Your children will rebuild the deserted ruins of your cities. Then you will be known as the people who rebuild their walls and cities.

I think I get it. If I want to please God, I need to stop doing all the right things from the motivation of what's in it for me. I need to stop thinking about me and turn my thoughts....and actions....outward. I need to actively show love to others. I need to do it because I love God and want to please Him. If I do that, the blessings I desire will come naturally out of my obedience to God and I won't even have to worry about them. Is there anything else?

Keep the Sabbath day holy. Don't pursue your own interests on that day, but enjoy the Sabbath and speak of it with delight as the Lord's holy day. Honor the Lord in everything you do, and don't follow your own desires or talk idly. If you do this, the Lord will be your delight. I will give you great honor and give you your full share of the inheritance I promised to Jacob, your ancestor. I, the Lord, have spoken!

Thank you, Father, for being so faithful to me. Please help me to love you fully so that I may be as obedient as You desire. May the desire to please You be my only motivation in every action and may I find every delight in You.


posted by Stacy at
9:55 PM
Friday, March 26, 2004

everyday miracle

I witnessed a miracle last night. I'm not trying to be funny or trite. To me it was a miracle. Megan spent the evening reading a book. Megan has never willingly read anything. I don't know if it is the new glasses making a difference or her choice of subject. She is reading the Cassie Bernall story, She Said Yes. Megan is young enough that she had to ask me if the Columbine shootings really happened, but she is so absorbed in Cassie's story (and yes, we've talked about how it might not be completely accurate). She is telling everyone she talks with about the book....including some friends who look at her like she has a third eyeball in the center of her forehead when they hear what the book is about. Is she stuck on the fact that Cassie was shot? No, she is marveling at how messed up Cassie was (she's been reading Cassie's dark poems to me) and how she turned around after asking Jesus into her life. She is mourning the loss of a life so young (the chapter about Cassie's relationship with her dad made her cry). She is marveling at the courage of someone who would boldly declare their faith in the face of almost certain death. She is gaining a respect for those who are martyred for their faith. And she's doing it all by reading a book! You can't tell me that's not a miracle.


posted by Stacy at
12:53 PM

INSTEAD OF THE FRIDAY FIVE

My Version of the 80s: Borrowed from Kiwi Christian.

Five favourite fashion accessories from the 80s:
1. High-heel booties.
2. Skinny black tie.
3. Gray fedora.
4. Cut-off sweatshirts or t-shirts (stomach baring).
5. Big earrings.

Five favourite movies from the 80s:
1. St Elmos Fire.
2. The Breakfast Club.
3. Ferris Bueller's Day Off.
4. Dirty Dancing.
5. The Great Outdoors.

Five favourite tv shows from the 80s:
1. Full House.
2. Magnum P.I.
3. Perfect Strangers.
4. Murder, She Wrote.
5. Cosby Show.

Five favourite songs from the 80s:
1. Rock This Town-The Stray Cats
2. Rock The Casbah-The Clash
3. I Love Rock 'n Roll-Joan Jett
4. White Wedding-Billy Idol
5. Walkin' On Sunshine-Katrina and the Waves.

Five favourite singers/bands from the 80s:
1. The Cars
2. Stray Cats
3. The Kinks
4. The Clash
5. Billy Idol




posted by Stacy at
12:07 PM
Wednesday, March 24, 2004

another bump in the road

Megan's pediatrician called last night. I had talked to her earlier in the week about Meg's response to the strattera and she had wanted some time to check out a few things.

We've licked the issue of the strattera making Megan sick to her stomach by giving it to her at night with supper or a high-fat snack. The problem is that it doesn't seem to be doing any good. When she first went back on it we got a couple of days that were wonderful, but after that.....nothing. In fact, if anything her emotional outbursts, anger and defiance are out of control. She is really struggling with school again, too. I just found out she is failing math (and maybe a couple of other classes) and is simply not doing her work. I'd asked the pediatrician about the possibility of Oppositional Defiant Disorder (O.D.D.). O.D.D. often goes hand in hand with Attention Deficit Disorder, which Megan was diagnosed with 6 years ago.

Anyway, the pediatrician called to tell me she had put a call in to a very good psychiatrist about Megan and was waiting to hear back from him. She said that while Megan is showing some symptoms of O.D.D. she is concerned that there may be a deeper problem....mainly that Megan is bi-polar. She doesn't want to drop the ball with Meg so wants her to have a thorough psychological evaluation by this man. Also, she is working to see what financial aid she can get us because in Pennsylvania Attention Deficit Disorder qualifies as a disability so Megan should be able to get most if not all of her care/treatment covered regardless of our income (which is too high to qualify without the disability). That would sure help out. The strattera alone costs $120 a month.

It makes me tired to think of all we may have to face, but the emotional roller coaster Megan's been on has me worn out, too. Absolutely everything is a major battle with her and what isn't a battle is a major crisis to her. I know she is miserable and can't help it, but the stress level around here is sometimes unbearable. She drags us all up and down with her.


posted by Stacy at
1:01 PM
Tuesday, March 23, 2004

Spooky....
how accurate this is at the moment. I have a problem with being told I signify nothing, though.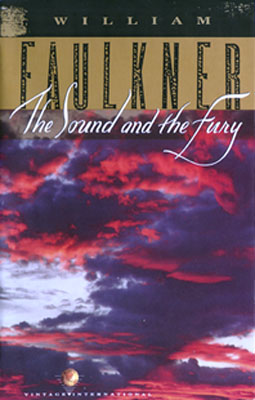 You're The Sound and the Fury!

by William Faulkner

Strong-willed but deeply confused, you are trying to come to grips
with a major crisis in your life. You can see many different perspectives on the issue,
but you're mostly overwhelmed with despair at what you've lost. People often have a hard
time understanding you, but they have some vague sense that you must be brilliant
anyway. Ultimately, you signify nothing.


Take the Book Quiz
at the Blue Pyramid.
Thanks to George at
Water Carriers
.
posted by Stacy at
5:15 PM
Monday, March 22, 2004

Yesterday was interesting. We hadn't picked a church to try yet, so stayed home, slept late and acted completely lazy. It was wonderful. We've all been burning the proverbial candle at both ends and needed the rest.

Right in the middle of Forrest Gump my mom popped in for a visit and found some of us still in pajamas at 1:00 in the afternoon. Bunch of heathens. I've been using her second car to get to work for a while and she wanted to know if I'd like to buy it for $500, payable at $50 a week. Of course I do. That was a stupid question. It was nice of her to offer. It's just too bad she couldn't have made the gesture without making me feel like poor white trash in the process, but that's my mom for you. She's slow to say anything nice, but quick to let you know what you've done wrong. Always nice to know what a disappointment you are to your mother, but hey, at least I got a car out of this latest round of emotional abuse.

We had a second visitor later in the afternoon.....a woman from the church that I considered (past tense) a friend. I'm not sure if she came because she noticed I wasn't in church or because she heard about Tim's resignation and our final withdrawal. She asked if she and her husband had done anything to hurt us or make us angry with them and being the avoider of conflict that I am I said no. She didn't let it go, though, and eventually said that they hadn't wanted to pressure us and that they'd been unsure how to handle things so they'd opted to give us space. She said in retrospect perhaps they'd given us too much space. Well, duh. I did confirm that, but did not disclose the depths of the abandonment we've felt. Anyway, she and I ended on good terms. I wouldn't say we'll have a close friendship, but I have a peace with her. Tim didn't manage more than saying hi to her before disappearing outside. When I told him what she wanted he said maybe he'll call her this week. I asked Tim what he was going to do if this relationship healed? I had big fears he'd say he would stay at the church if they patched it up, but no, too much has gone on for too long and he is anxious to find another church. I am so relieved. My emotions have been drug all over the place (and not just recently) and it's been so long since going to the church made me feel good that I just want find a healthy church. I know that somewhere out there is a congregation that really cares about each other and isn't afraid to minister to each other, not just to strangers. I know there is a congregation where we can feel that we fit in and belong and I'm going to find it.


posted by Stacy at
10:17 AM
Saturday, March 20, 2004

An oldie, but a goodie.

I came across an old, really obscure cd on Amazon.com last week. It's Desolation Boulevard by Sweet. It's from, like, 1974. My best friend's brother had it on 8-track and we listened to it and listened to it. Eventually I got my own 8-track. I listened to it until I wore it out. I never could find it again after that. It is an awesome collection and really the best thing Sweet ever did. Actually, I never liked anything else they did. The best song is Ballroom Blitz, but The 6-Teens, Fox on the Run and Into the Night are excellent. Go here to find links to hear clips. I think you will recognize Sweet's influence on bands that came later.


posted by Stacy at
6:46 PM

Decision Made

Yeah, I know, you've heard it before, but it's definite this time. We are leaving our present church for good. We talked a lot last night and we've talked to the kids. They are okay with it.....a big change from a couple of months ago. I think for them the turning point has been seeing that none of the other youth are coming to youth group (every single one is attending a group somewhere, though, for which I am thankful). There really isn't anything there for them. For me, the decision follows months of not feeling like I belong, of not having any relationships beyond the hi-how-are-you variety on Sunday mornings. For Tim, it was easy. He finally came out and said he hasn't had any intention of returning there for quite some time. He also said he wasn't anywhere near ready to attend any church at the moment. This morning I typed up our resignations and sent them to the appropriate people. I have such a feeling of relief and Tim said that now that we've actually done it he has found he's actually looking forward to finding a new church.


posted by Stacy at
6:25 PM

Thump!

I've recently started using Max Lucado's Inspirational Study Bible and while the idea of God allowing us to endure tough situations in order to refine us is not a new idea, the devotion provided by Max for James 1 did give me a new perspective.

"When a potter bakes a pot, he checks its solidity by pulling it out of the oven and thumping it. If it "sings" it's ready. If it "thuds" it's placed back in the oven. The character of a person is also checked by thumping.

Been thumped lately?

Late-night phone calls. Grouchy teacher. Grumpy moms. Burnt meals. Flat tires. You've-got-to-be-kidding deadlines. Those are thumps. Thumps are those irritating inconveniences that trigger the worst in us. They catch us off guard. Flat footed. They aren't big enough to be crises, but if you get enough of them, watch out! Traffic jams. Long lines. Empty mailboxes. Dirty clothes on the floor...Thump. Thump. Thump. How do I respond? Do I sing? Or do I thud? Jesus said that out of the nature of the heart a man speaks (Luke 6:45). There's nothing like a good thump to reveal the nature of a heart. The true character of a person is seen not in momentary heroics, but in the thump-packed humdrum of day-to-day living."

Ouch! How do I respond when I am thumped? If my initial reaction to being thumped reflects who I am, then I'm afraid more often than not I "thud," which would explain why I so often feel like I spend an awful lot of time in the fire. And when I would grumble, I need to remember what a gift it is that the Potter never scraps the clay. He just keeps working it until it is right.


posted by Stacy at
11:45 AM
Wednesday, March 17, 2004

Just wanted to give a quick update on what jocks the kids are becoming. Matt finished up volleyball conditioning last week and try outs for the varsity team were Monday. He made it. He also announced that he is playing football next year. Conditioning for that started tonight. I'm glad he enjoys it and is getting a lot more active, but I am worried about his priorities and am trying to drop subtle hints concerning things he needs to think about.....little things like grades and his job. He tells me he is a rising star on the social scene. I wonder if that isn't turning his head a bit and if he isn't wanting to act like some of the others who seem to have no responsibilities?

Soccer conditioning wrapped up for Megan last week, too. There are sign-ups for some type of soccer tonight that she is wanting to go to. I need a few more details about when, where, etc. before I sign her up. I don't want to agree and then find out games are on Sundays and I need to know about transportation to games because of our work schedules. I'm not sure but I think this is rec league soccer, which means we'd have to get her to games. Depending on when they are, that might not be possible. Guess we will go and find out about it anyway.


posted by Stacy at
5:12 PM

Ain't It Funny...

how, just when we are feeling our most discouraged, God finds the most unexpected ways to pull us out of the muck. I've been on the receiving end of two such moments this week.

Moment 1: I bought a new purse at Walmart on Monday and as I was cleaning the old one out I found an old card in a seldom (or never) used pocket. The postmark on the card was from July 2000. The card was from the pastor who recently was ousted from our church. In it he thanked me for the job I did leading VBS that year and went on to say how much he appreciated the way I could work with so many different people and pastors in so many different ministries and yet remain constant in my emotions. He called me an example to him and our associate pastor at the time. Wow. I don't know how it mangaged to remain in that purse all these years, but it really gave my sagging spirit a boost.

Moment 2: Came in the form of another card yesterday. A family who was extremely supportive of the previously mentioned pastor, has left the church and who was outright nasty toward our family at the time of the pastor's resignation sent it. They said they were distressed to hear that Tim is no longer involved at the church and that they hope we will not let the things we have had to go through keep us from serving Jesus. They went on to say that they found going to a new church and being fed spiritually there has helped them tremendously and said they are available if ever we want to talk. Also, should we decide that we want to go elsewhere, even just for a visit, that they hope we will call them as they would welcome our family with open arms. Again with WOW! I can't begin to describe how blown away I was by that or how encouraged. For a family that was that angry and bitter to now be able to make such a gesture....just gives me so much hope that everyone from the church whether they have moved on or remained will find that kind of healing and maturity. It also makes me continue to wonder if I shouldn't go elsewhere. I know God will meet me anywhere I ask Him to, but maybe in my humanness I can't move enough garbage out of the way here to let Him in all the way. A lot of the time it feels like I have a breakthrough and make some progress in that, then I spend time around the people at church and what I just gained slips away again.


posted by Stacy at
1:00 PM
Tuesday, March 16, 2004

Yikes! Is it ever nasty here. The snow hasn't amounted to much (yet) but the wind is something else, as is the freezing rain. It's a mess. And the kids went to school this morning. I didn't have any problems then, but I am already getting close to an anxiety attack over what this afternoon will bring. We were told to make sure our supervisor could reach us in case of early dismissal, but that's very unlikely. Derry has only done that once in the last 20 years. Knowing this was definitely coming I question why they didn't do like many other districts and cancel today? Now we have to transport those children on roads that would be better stayed off of.

By the way, our computer is really grinding the last couple of days so if I disappear you'll know why. Dell has been advertising a good deal for $499/basic that could be upgraded for just a little more. We wouldn't be able to swing it until next month so I'm hoping they continue the deal till then. If we can get it, then I'd actually be able to hook up the printer/scanner I got for Christmas that this computer won't support.....and maybe you'd get to see some pictures. Maybe.


posted by Stacy at
11:00 AM
Saturday, March 13, 2004

Direction

At some point this afternoon I have to finalize plans for tomorrow's youth group. I am struggling with this group. The kids are very solid in their faith and desire to reach out to others, which is pretty good considering what the church has been through, but I've been finding that the youth group is a low priority for them. They are all great friends and spend a lot of time together, just not at youth group. The youth group seems to have become something they do when there's nothing better to do. So, I've been praying and thinking for a couple of weeks now (we didn't meet last week and they didn't show the week before) and I think the root of the problem is that they stopped enjoying youth group at some point. It's understandable with all that's gone on plus when the associate pastor took over I think they mostly did lessons. Even the movies they watched were always very serious ones. There's nothing wrong with that some of the time, but very few teens want to be serious and deep all the time. So what am I going to do? Well, much as I hate to concentrate on fluff and fun all the time, that's exactly what I'm going to do for a while. I'm cutting regular meetings back to twice a month and I will be keeping them light. On the weeks in between I'll try to schedule fun activities or service projects. It doesn't seem like much, but there's only me and a handful of teens. I have to start somewhere. My hope is that I can bring them back to a point of thinking of the group setting as fun. If I can bring back that mindset then maybe they will be more willing to make the group a priority and begin to bring their friends again. I'm also asking God to give me a vision, something to put before them, something to pull them together and encourage them to work toward as a group. A few things have come to mind, but I'm not ready to share yet. I need to pray more and be sure the idea I choose is really from God, because the projects I'm thinking of so far would require the entire church to come on board and work together. That would be tricky right now unless it's all from God. I know I don't have it in me to unite the church and pump them up about something.


posted by Stacy at
11:21 AM
Wednesday, March 10, 2004

The End of Childhood....or Watch Daddy's Hair Turn Grey

Few things in life are guaranteed to stress a father more than hearing his daughter, his precious baby girl, his princess, announce that she might have a boyfriend.

Few things in life are guaranteed to energize a daughter more than the possibility of her first romance.

Few things in life are guaranteed to amuse an older brother more than the endless comedic opportunities presented by a sister's budding love life.

Few things in life are guaranteed to give a mother a headache the magnatude of one brought on by being cooped up with a car load of screeching, giggling pre-teen girls arguing over who the young Romeo likes more.

Life will never be the same.


posted by Stacy at
12:46 PM
Monday, March 08, 2004

One word....

....snow....

Ok, so I can't say just one word and let it go. It snowed this morning. It actually snowed quite a bit this morning and we have 2-3 inches of the stuff on the ground. Thankfully, the roads are still warm enough that they've remained clear. What a hard pill to swallow after Friday's sunshine and warmth.

Yesterday was pretty good. The kids and I went to Sunday school and Tim was going to meet us for church. He didn't. I can't say I was really surprised. He wasn't too happy about being there last week. I can't blame him. He got a lot dumped on him when things blew up and he still has a lot of mourning to do. My own feelings are somewhat mixed. I go to Sunday school and church every Sunday and everyone is nice, but that's as far as it goes. I don't have any relationships that extend beyond Sunday morning acquaintances. I used to have a lot of friends in the church and felt I was part of the group. Now I sit alone and am never included in anything that's going on. It's pretty lonely. The pastor had a good sermon yesterday on the prodigal son. All of his sermons deal with the church's healing and the message he pulled from the story was this: God will never love me less than he does right now and God will never love me more than he does right now. Hearing that helped some in that I need to allow God's love to be all that I need and accept that everything else is a bonus. Still, I feel out of place at church and find myself craving genuine fellowship. I'm not sure what to do about it. The ladies group I attend meets this week. Maybe when we do prayer requests I should share how I'm feeling and ask them to pray? I'm praying myself for God to show me if the fault is mine or to convict others if the fault is theirs or to make it clear to me if I should move on to a place where I belong. That last one opens up a whole other issue with the youth group.

Matt was tied up with the final showing of the musical so Tim, Megan and I drove over to New Florence and visited Helen and Dave. They are not Christians, though Helen did grow up going to church. Still they are good people who are down to earth and very honest and real. We enjoyed our time with them and I know we influence them at least a little. Helen has begun mentioning that she should go back to church. We also stopped to see Tim's dad while we were over that way and had a very pleasant visit with him and Tim's sister. It was a very nice day.........except for having very little voice left by the time we got home (I don't have a voice at all today).


posted by Stacy at
12:13 PM
Saturday, March 06, 2004

Saturday
Feeling somewhat human today after a couple of doses of NyQuil and a good night's sleep. Just a bit congested. Good thing, too, as I need to get busy reclaiming the house. You know how it is when Mom gets sick.

Tim is working a full day. Matt is still sleeping. He is so worn out from keeping the musical schedule this week. Thank goodness it is over tomorrow. Megan is watching cartoons and has a birthday party at the indoor pool at the high school this afternoon.

I need to find time to get to the grocery store, too. I haven't done any big shopping for a while and we are out of a lot of basics. I also need to get some amonia. Someone suggested I put it out around the house as a deterent to skunks. We've got a major problem with them already this year. Haven't seen them yet, but boy have we smelled them. Twice in the last couple of weeks we have woke in the night to the incredible stench. The smell fades outside, but it lingers inside. We can't see that they are getting under the house but they must be getting awfully close. We live in the suburbs so shooting them is out of the question and trapping presents the problem of getting them relocated and out of the trap without getting sprayed. Calling the Game Commission is useless. This is one of those times I miss my dad. He was a Game Commission deputy and when we had skunk problems he was able to shoot them. Anyway, skunks are supposed to have an aversion to amonia so I'll give it a try.

Last night Tim and I had a dinner meeting with some others from the Gideons. If I haven't mentioned it, we belong to the Gideons International, the organization of business men that place Bibles in hotels, doctors' offices and hand them out to graduates and medical personnel, etc. The state convention is here this year and we are helping with the youth side of things. Last night was to iron out all the final details.


posted by Stacy at
7:57 AM
Thursday, March 04, 2004

Excuses

Sorry for the silence this week. It's been crazy. The kids have had soccer and volleyball practices and after school tutoring on top of the usual things. The high school musical, The King and I, is being presented this week and Matt suddenly agreed to help out on stage crew. Yesterday I worked all day transporting loads of elementary students to the high school to see a part of the show. Today I feel like death warmed over. I am definitely coming down with something.


posted by Stacy at
7:49 PM
Monday, March 01, 2004

No youth group last night. All of the kids went to one of the two showings of The Passion instead.

The interim pastor invited all the elected leaders and ministry leaders to meet with him last night as a group. Only 11 of us took him up on it. That's a shame. It was a time of assessment for us and it would have been great to have all the leadership there. We looked at what God had been saying to us as individuals through scripture; what He's been speaking to us as a church through sermons, lessons or whatever means; we made a list of the things God is telling us He values; we graded the church how we feel it's doing on those values; we examined barriers that keep us from doing well on those we graded low; we looked at how we as individuals might be a stumbling block to certain values; and we looked at why we are. It was an eye opener and helped me to see some things a lot more clearly.